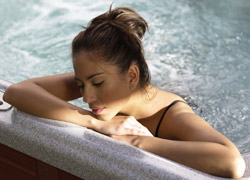 Oh how I wish I had a hot tub! This has been a long week…a week that finally saw the completion of my transition to full time status here at Hot Tub Works. It's been two years in the making and I couldn't be more excited – but, it has been more than a few years since this old gal has worked a '9 to 5' schedule!
Oh sure, there is an in-ground Jacuzzi in the apartment complex where I live with my 3 kids. After listening to some of the stories from our customers, I don't think a soak in community 'germ soup' would be very relaxing.
(Note to customers: here at Hot Tub Works, we are your 'spa therapists' in every sense of the word – know that your stories are all safe under our cone of silence. But do keep them coming. We love when you share with us!).
I doubt that the nice folks who operate my community are as vigilant about water quality as we are here. So, how do those of us without a personal spa experience relax?
I am a big advocate of making a restful, retreat like environment in my own bedroom and bathroom. Nice sheets, pillows – the whole 'blissful bed' experience. Candles are a must, along with other aromatherapies. Just because I don't have a spa in my backyard (okay fine – I don't even have a backyard. I am learning to deal with it!) doesn't mean I can't use some of the amazing hot tub aromatherapy products we sell here. I can put some of the crystals in a small cloth bag and place them in the shower, or a tiny amount of the liquid product in a sink filled with hot water turns my bathroom into a restful, scented space.
Check out the entire selection of spa scents. How about some Mood Crystals in my car? That sounds like an awesome idea!
Now all I need is some smooth blues guitar from my iPod and a glass of wine. Ummm, is it 5 o'clock yet??
~ Julie
Tags: Consumer Research on Spas, hottubworks, www.hottubworks.com